Concentrated Foam Fluid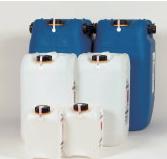 Concentrated Foam FluidThe foam party's big secret is the used concentrated fluid. The concentrated fluid MBN has been developed especially for the use at foam parties and is dermatologically tested. It fits to all European normative for this type of utilization. We have available these certifications and you can ask for them in the agency.
You dilute the concentrated fluid with water from approx. 1,3% to 2%. This fluid also matches with generators for artificial snow, based on foam; in this case the dilution is about 5-6%. The concentrated fluid is available in barrels of 5 liters, 25 liters, or 60 liters. To fill the foam fluid from the cans in the tanks a faucet/ tap is available for the 25 and 60 liters.